Safe and Sound Junior Handlers Course
SUMMER HOLIDAY DOG TRAINING FOR JUNIOR HANDLERS!
Give your youngsters something to do in the summer holidays.
The safe & sound course will help them to bond with your family dog. It's fun and rewarding. Come and join our junior handling class or have a go at any dog sport!
Now is the time to book them in to a class!
Limited spaces available:
We will teach your children...
How to behave around dogs
How to understand and 'speak' dog language
What the common sense rules are and the important Laws around dogs.
How to train your dog
Safe and Sound
training will help keep your child 'exactly that' around both your family pet or any other dog they come into contact with. We often hear in the media of tragic occasions where attacks take place and children are left maimed or worse. No dog is safe... all have 42 teeth and all can bite! Many surveys have shown that children and sometimes their parents do not know how to behave around dogs…kissing, cuddling, sharing food and sometimes beds are all potentially dangerous if you don't read the dogs body language. We will help you understand 'dog speak' and recognise the tell tale signs of an anxious or dangerous dog. This activity should also help those children who are afraid of dogs and give them confidence to interact safely.
Once your child has completed a 30 minute
'Safe and Sound
'class which take place every Saturday at 2.00pm they will be able to attend our
'Junior Dog Handler'
classes which are an hour long class 2.00pm Saturdays. These classes will show your child and family dog how to Sit, Stay, Lie down and recall amongst many more skills, its great fun and very rewarding!

To book or discuss further call Tina on 07807 486377
. Please note classes will be small so book early to avoid disappointment!
BACK TO THE GENERAL STUFF....
I can help you and your dog to become more confident and relaxed.
There are many bad habits that dogs pick up - see the drop down menu at the top of the page.
Dogwise Training school is a very good way to start Training your Dog for good Behaviour.
Dogwise Training school has lots of good advice for you - learn about your dog's body language and what it is telling you.
Dogwise Training school focuses on giving you the skills to train your puppy or dog to develop a good bond, have good behaviour and acceptable social skills through various kind methods that suit you and your dog. All training and classes whether obedience, socialisation or agility are based on making you feel comfortable, happy and enjoying working with your dog. Most of all we have fun and all the family are welcome to watch or have a go.
We train mostly outside which is more challenging, but more realistic as you have to learn to control them when you are out and about.
My classes are open for all and you can come and visit beforehand if you wish.
You can come to any of the morning classes on any day - just pay & work your dog - no need to block book!
The using of force, smacking or shouting is not advised and is not used in any of our training.
Call or email me for further information or just to have a chat about how I can help you.
RALLY-O
A new dog sport using signs and specific commands...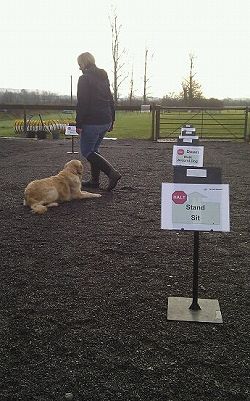 Ask me about it next time you see me !

The above is a random selection of just 5 of our list of
21 bad habits
- refresh the page to see more.