DogWise Dog Training School, Mere, Wiltshire
BACK TO THE GENERAL STUFF....
I can help you and your dog to become more confident and relaxed.
There are many bad habits that dogs pick up - see the drop down menu at the top of the page.
Dogwise Training school is a very good way to start Training your Dog for good Behaviour.
Dogwise Training school has lots of good advice for you - learn about your dog's body language and what it is telling you.
Dogwise Training school focuses on giving you the skills to train your puppy or dog to develop a good bond, have good behaviour and acceptable social skills through various kind methods that suit you and your dog. All training and classes whether obedience, socialisation or agility are based on making you feel comfortable, happy and enjoying working with your dog. Most of all we have fun and all the family are welcome to watch or have a go.
We train mostly outside which is more challenging, but more realistic as you have to learn to control them when you are out and about.
My classes are open for all and you can come and visit beforehand if you wish.
You can come to any of the morning classes on any day - just pay & work your dog - no need to block book!
The using of force, smacking or shouting is not advised and is not used in any of our training.
Call or email me for further information or just to have a chat about how I can help you.
RALLY-O
A new dog sport using signs and specific commands...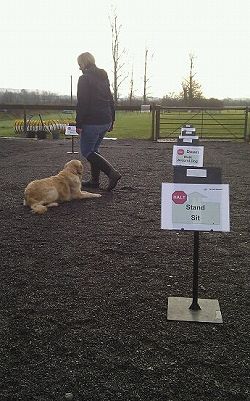 Ask me about it next time you see me !
---

The above is a random selection of just 5 of our list of
21 bad habits
- refresh the page to see more.